14/10/2012
Nazism, nazis, secret police, cointelpro, stasi, mk-ultra, ss, perpetrators, 24/7, domestic surveillance,
A la recherche de financements et d'aide afin d'achever mes assassins

d'urgence.
Seul et sans 1 sous je ne peux plus rien, matériellement je me suis fait stalker de plus de 400000 euros sur ces trois ans..Mon hobby était mon boulot et j'avais construit tout proprement en partant de rien avec l'aide d'amis et de ma famille.
La suite de mon opération est plannée depuis longtemps, il s'agit de la solution la plus propre, rapide et humaine.
Et ca ce passe dans mon domaine de prédilection et formation en opposition à tout ce travail vomitif mais ultra utile si reconnu .

J'ai donné ces assassins à la police il y a plus d' un an. Le resumé des faits à telecharger

Depuis, contraint, et en faisant attention à beaucoup de monde,je les ai tué devant 1000 visites par jours et ce sous harassment et surveillance 24/7.
L'armée belge c'est 10.000 visites.
Ces dégénérés voient partout et les écrans parfaitement, me commentent mes faits et gestes..... ils prennent absolument tout les signaux (gsm, potentiometre, variateurs, table de mixage, hi-fi, ...tt les pcs sont pris par tempest, le web hameçonné).
Je sais exactement par quelles techniques et j'en ai les preuves matérielles.......... et plus encore.....(cointelpro, domestic surveillance nasa, psyops, mk-ultra , cno, tempest....)
Ces ordures ont consacré 14 pleins temps de un an à m'assassiner,et avec des armes à énergie dirigées.. J'ai tout depuis longtemps ......et c'est trop lourd.
En outre nous sommes beaucoup de victimes le sachant et laissées sous les armes de ces nazis, avec nos preuves et évidences.

J'ai des contacts avec de nombreux belges en cours d'assassinat , la plupart n'ont meme pas le soutien de leurs ex- proches..... j'ai beaucoup pour eux aussi. Le temps est l'ennemi.
Saturday, there was a meeting of detection in a

anechoic chamber

at the

University of Ghent

. The results show that I am targeted and fixed at the temples left and right. It seems that the technique is shown in the video ……
http://youtu.be/16ZH1Z6plf0
http://gangstalkingbelgium.net/2012/03/05/human-auditory-...
Parmis les seules réponses à mes mails, il y a Barak Obama qui m' a répondu ds les deux jours et j'ai eu son soutien..... qui a plus de chats à fouetter ? Il sait ce qu'il se passe ici...
Nazis, Waves, Magnetic fields, COINTELPRO, Murderers, State covered crimes,Psychotronic, Radio broadcasting, Fishing, Spoofing, 24/7, Asymetric, S.T.A.L.K.E.R.
HISTORY MAKER TO CONSTRUCT PSYCHOTRONIC GAMES, TO DESTRUCT , ISOLATE, ALIENATE VICTIMS. DESILLUSIONS , FALSES, HARASSMENT, OBEDIANCE TO AUTORITHY, KARPMAN TRIANGLE , LABYRINTH ..... WITH DIFFERENT UNFAIRLY INCONSTANT PARAMETERS.
http://www.foolquest.com/cliquebusters.htm
THE ONLY ONE PARAMETER FIXED IS ZERO FOR THE FALSE GOAL OF THIS ROTTEN GAME, THE EXIT FOR THE VICTIMS AND THE SNITCHED GAMERS. IT IS A ALSO A FACT FOR MASTERS OF GAME WHO KNOW THIS SINCE THE BEGINING.
IF THE VICTIMS STAY ALIVE, FOLLOW THE REVERSE SYNDROM OF STOKHOLM PHASE WHERE THE MASTERS OF GAMES AND THE PLAYERS ARE LOST AND BLOCKED BY THE ECHELON COVERING THE PAST CRAPOULOUS CRIMES.
IN THESE PHASE, PERPETRATORS TRY TO MAKE AN INEXTRICABLE SITUATION WITH A BIG DRAMA OR TRIES TO BE REPLACED TO GO UNNOTICED. IN THIS CASE IF, BASTARDS ARE BLOCKED.
THAT PART IS THE MOST VILAINOUS AND MISERABLE FOR THE CORNERED, RUINED AND LONELY VICTIMS TARGETED WITH SCALAR WAVES, MICROWAVES BEAM, EMP, SURROUNDED SILENT SOUND.,...
THE VICTIMS AND NEIGHBOURS ARE ISOLATED . T.I'S (targeted individuals) TORTURED AND KILLED BY CARRIONS. ALL IS CLOSED, BLOCKED AND DEVIATED BY THE ECHELON .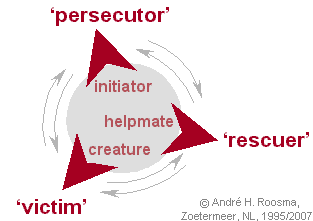 Foolquest, history maker, gang-stalking, street theaters, Karpman triangle
Kubrick's Eyes Wide Shut
Organized bullying of a target by multiple people,
Gang Stalking is a systemic form of control, which seeks to destroy every aspect of a Targeted Individuals life. Once a target is flagged, their information is sent out to the community at large, and they are followed around 24/7 by the various communities that they are in. A covert investigation might also be opened, and electronic means used by the civilian spies/snitches as part of the overt and covert monitoring and surveillance process.The citizen informants can be parts of these community oriented policing programs, but are often just average citizens. Everyone in the targets life is
contacted, advised as to why the individual has been flagged, advised not to discuss the flagging and asked to be a part of the ongoing, never ending monitoring (systemic harassment) process. This process is covertly designed to destroy the target over time, leaving them with no form of support.
Gang Stalking is experienced by the Targeted Individual as psychological attack, that is capable of immobilizing and destroying them over time. The covert methods used to harass, persecute, and falsely defame the targets often leave no evidence to incriminate the civilian spies.
It's similar to workplace mobbing, but takes place outside in the community. It called Gang Stalking, because groups of organized community members stalk and monitor the targets 24/7.
GANG STALKING BELGIQUE FACEBOOK WALL
http://www.nazis.be/index.html
http://www.nazis.be/nazis-gang-stalking-Belgique-Benjamin...
http://www.nazis.be/nazis-gang-stalking-Belgique-Benjamin...
http://www.nazis.be/nazis-gang-stalking-Belgique-Benjamin...
http://www.nazis.be/nazis-gang-stalking-Belgique-Benjamin...
http://www.nazis.be/nazis-gang-stalking-Belgique-Benjamin...
http://www.nazis.be/nazis-gang-stalking-Belgique-Benjamin...
http://www.nazis.be/nazis-gang-stalking-Belgique-Benjamin...
http://www.nazis.be/nazis-gang-stalking-Belgique-Benjamin...

Gang Stalking is stalking by more than one person to a victim, usually involving community harassment, or the "mob", using people from all backgrounds and vocations to harass, tracking 24/7, sometimes organizing lethal vehicle accidents, poisoinings, electronic harassment, home invasions/property destruction, corrupt or ignorant doctor diagnosis given to stamp the victim as bogus mentally ill with delusions, paranoi, or schizophrenia, etc. (http://www.urbandictionary.com/)
3. Goals of this hate campaign.
The goal is to sensitize the target to a stimuli, isolate the target, make them destitute. The secondary goals seem to be to make the target homeless, jobless, give them a breakdown, and the primary goals seems to be to drive the target to suicide.
COINTELPRO THE PROGRAM Gang Stalking Harassment Covert Fraud Surveillance Covert (lissakr11humanelife.wordpress.com)
Balls on Wearing Nazi Uniform: It Was a Laugh (order-order.com)
Gang-stalking : 14 FULL-TIME EQUIVALENTS OF HARRASSMENT AND VOICE TO SKULL SINCE 2,5 YEARS...... (benjasimonreverse.wordpress.com)
Dark Secret of the US Military -- Neo-Nazis and Criminals Are Filling Its Ranks (alternet.org)
Lest we forget (flanderstoday.eu)
Gang Stalking - Another target commits suicide. (neverending1.wordpress.com)
Criminal Tweeting: Texas Online Harassment Charged (blogs.lawyers.com)
(TI's) What You Can Do To Help ! (legalmerandering.wordpress.com)
Stalked! By Voices - Chapter 70 (stalkedbyvoices.wordpress.com)
Cyberbullying: Out of the Playground and Onto the Internet
www.fr.psychiatrie.be/content/.../secret_micropuce_cerebr...
Informations sur la schizophrénie Pour les patients, famille et amis
21:40 Écrit par bensim dans Alain Winants, B. SIMON, Belgique, CINEY, Clandestine HUMINT, COILS, COINTELPRO 2.00, Community Terrorism, Echelon, Gouvernement, HOLOCAUSTE, Institut Royal scientifique de la Défense Belge, Intelligence Computer | Radio, Mengeles, MICROWAVES, NATO, NAZI, NAZIS, OSEH, OTAN, Perso, Police de Ciney, Rédaction, SIGINT, SS, Stalking, Surete de l'Etat | Belgique, Terrorisme, The Hidden Devil, TORTURE SOFTWARES, VSSE | Lien permanent | | Tags : ciney, stalking, gang stalking, police ciney, benjamin simon, terrorisl, warfare, perpetrators, 247, harassments |
|
del.icio.us |
|
Digg |
Facebook | |
Imprimer |
| | |